OUR VISION:
CLEAN EATING MADE SIMPLE!
As our name implies, we believe in food that feels hearty and feeds the body and soul. We believe in living and eating healthy, but with hearty doses of laughter, celebrations, adventure and flavours, along the way!

NO NASTIES.
NO SHORTCUTS.

We cater to our customers' dietary restrictions, and have a range of products.

100% pure goodies. Guilt free snacking.
Take your pick.
Explore our range of wholesome snacks, granolas, nuts, nut butters, spices, relishes and more,
that not only taste delicious but are nourishing too!
Our wonderful range of handmade spices, are all made by us - pure, fragrant and potent. Spices not only add to the flavours, but have many health benefits too.
Handmade in small batches, our spice mixes are made with the best whole spices, and 100 year old family recipes.
All of the HEARTIGRUB spices are free from chemicals, preservatives, colours, artificial fragrances. A little goes a long way!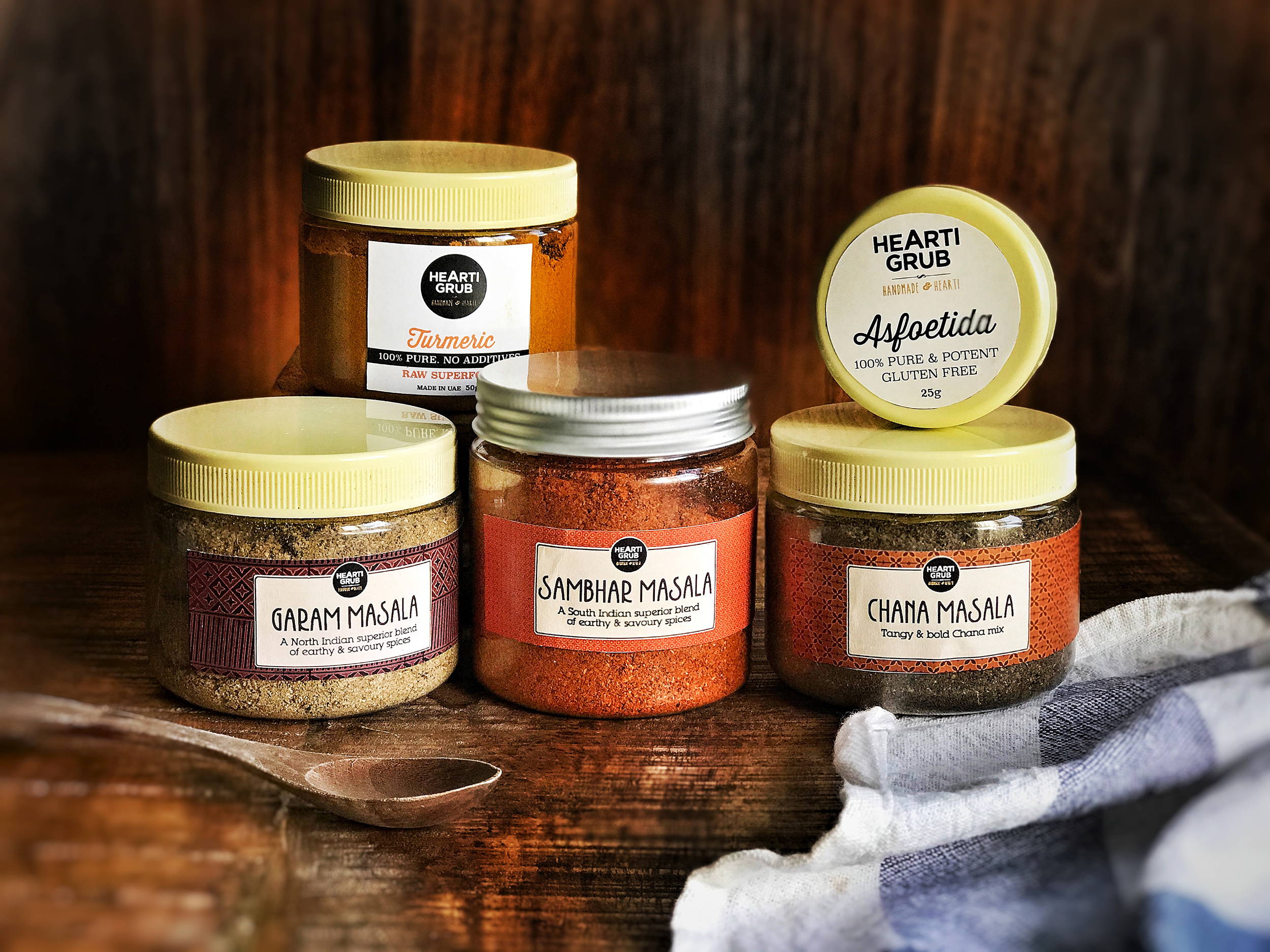 Following a healthy, balanced vegan diet ensures a host of health benefits as well as prevention of some of the major diseases. In addition to good nutrition and disease prevention, eating vegan also provides many physical benefits such as weight loss, lower BMIs, glowing skin and hair, and many more such benefits.
We have an entire range of VEGAN nut butters and goodies.
DON'T TAKE OUR WORD FOR IT, HEAR WHAT OUR CUSTOMERS HAVE TO SAY

The Hearti Grub pecan butter is delish, totally in love with it!!! Great healthy products.

Love the food from these guys! I buy their gluten free granola regularly, along with the mango pickle and mango relish. It's slightly expensive compared to what you can buy in a super market, but you get what you pay for. I love it!

Amit Gupta, Director Sales Operations, JAPAC and EMEA at Twitter
The hazelnut paste (nut butter) is AMAZING! I come from a town in Turkey along the Black Sea cost where 85% of hazelnut production in the world. Best I have tasted by far!!!!

Elif Kahvecioglu Berkel, Owner of Elif's Bakes

Get all the HEARTI goodness delivered right into your mailbox!